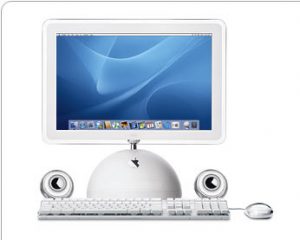 My iMac is celebrating its 10th birthday today. Laura and I purchased the machine on 2/3/4 and were immediately enchanted. Here's the launch video with Jonny Ives, Phil Schiller, Annie Leibovitz, Seal, Francis Ford Coppola and a great soundtrack:
That was great, and I loved the commercials, too:
While the iMac is no longer safe to keep attached to the internet (its Power PC CPU limits it to OS X 10.4), the machine still serves in a place of honor in the workout room, powering videos and music for our workouts and serving as a backup DVD burner.