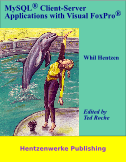 Followers of the Hentzenwerke Publishing empire know that Whil Hentzen has the largest catalog of Visual FoxPro books and an impressive collection of books bridging the gap from the Windows world into the Linux/Free/Open Source world. Whil's been working for quite some time to put together a book on working with VFP and back-end data servers other than SQL Server. I was one of the many community members who contributed comments, criticisms and ideas to the book, and was honored when Whil chose to designate me as technical editor. Whil Hentzen announces, MySQL Client-Server Applications with Visual FoxPro now on sale:
After far too long a wait, the eagerly awaited companion to our Client/Server Apps with VFP and SQL Server book from years ago is here. The brand new 414 page MySQL Client-Server Applications with Visual FoxPro covers Client-Server apps from the perspective of the hugely popular open-source SQL database, MySQL. Learn how to install, configure MySQL and then connect specifically with VFP. Then get your hands dirty bringing data – both flat files and DBFs – into MySQL databases. Build a variety of user interfaces. Learn about development and deployment scenarios with this multi-platform backend. Each step of the way, real world problems ('What if the connection fails?') and potential solutions will be discussed.
The book is on sale only for a short period. Get your copy now!